---
Kingston-upon-Thames (1840 - 1860)
The last of the Thames Ditton Howards in the literal sense was John Howard [P158], who also has the distinction of being the first Howard to have a birth certificate recorded at the General Records Office (now Family Records Centre). John Howard [P158] was born on 28th January 1839 and baptised at Thames Ditton.
The 1841 census records that James and Jane were still living at Weston Green, Thames Ditton with their children, Charles, aged 11, Jane aged 5 and John aged 2. Both Eliza and Mary Anne had died, Eliza in 1833 and Mary Anne in 1834. Although their son James Howard [P48] would have been 14 in 1841 and is not identified on the 1841 census, it is of course possible that by that date he was in employment away from his family and hence not recorded on the census.
By 1851 census, the family had moved to the nearby town of East Molsey, some time between 1841-43 and prior to the birth of their youngest son, George Howard, on 8th September 1843.
James Howard (1827-18??)
It is believed that James Howard [P48] married Sarah Norris [P89] at Walton on Thames on 25 Dec 1854. Sarah died aged 26 and was buried in October of 1856 at East Molsey, lhess than two years after her marriage to James Howard. Whatever happened to James Howard following this event remains, as yet, a mystery. He does not appear on the 1881 census index for Surrey. Did he emigrate to America, Canada, Australia or just take another wife and move to another county? Further work is required to locate our James HOward.
Charles Howard (1829-1882)
Little is known of Charles Howard's early life until his marriage to Elizabeth Stanbridge [P12] on 19th June 1854 at All Saint's Church, Kingston-upon-Thames. Charles at that time was working as a maltster - engaged in that ancient trade of beer making. Charles' father, James, was a labourer in 1854 therefore we must assume that they were from humble surroundings and certainly with little in the way of education. Indeed, we know that Charles was illiterate at that time as he was unable to sign his name on the occasion of his marriage, leaving his mark as an X. Elizabeth, daughter of James Stanbridge, a bricklayer, was of similar humble background and she too was unable to write her name at the time of her wedding to Charles.
Charles and his bride set up home in the Gig(g)'s Hill, the eastern end of Thames Ditton and to the south of Kingston-upon-Thmes, where their first child James Howard [P38] was born in 1857. James, the first born and named after his Grandfather, as was the custom of the day, was born on 12th February. James was to have a total of six brothers and sisters making this a fairly large but typical family of the period. His sister, Elizabeth Jane Howard [P39], was born on 12th March 1859 at Fairfield, Kingston-upon-Thames and it was after her birth that the Howard family moved briefly to Lower Tooting before moving on to what was to become their home for the next 100 years or so.
Whilst Charles and his wife were living at Lower Tooting, William Howard [P9], was born on the 20th December 1860 at Salvadore. His birth was followed by the arrival of Chales and Elizabeth's fourth child, Rosina Howard [P12] or Rose as she is referred to in the 1871 census return, born 12 December 1862.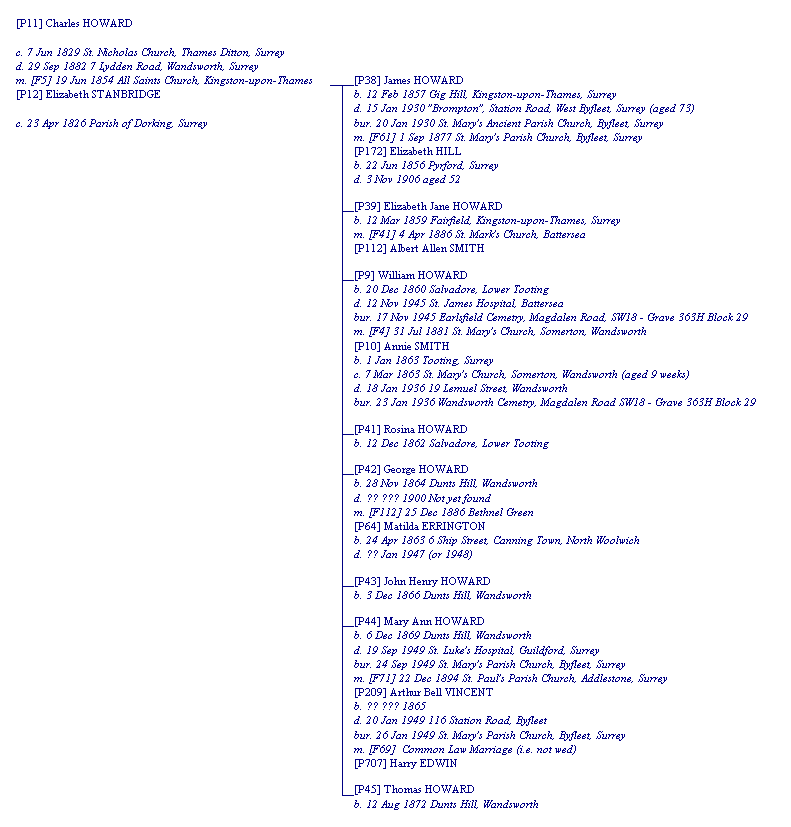 To find out more of this Howard family and their descendants click on Wandsworth

Jane Howard (1833-18??)

Jane Howard [P51], Charles Howard's eldest surviving sister was to marry a William Eagle [P145] in the neighbouring parish of Esher on the 27th May 1860. This proved to be just in time to make their first born an Eagle!! William Eagle's family seem to have originated from Walton-on-Thames, where a William Eagle was baptised on 30th November 1834. William's father, Thomas Eagle, appears to have died relatively young as his mother Rachel Eagle and brother and sister, John Eagle and Betsey Eagle, are recorded as living in Esher at the time of the 1851 census. William Eagle was an indentured apprentice carpenter serving under a James Tickner of East Molsey in 1855. By this date Jane Howard's family had moved from Thames Ditton to East Molsey and it is probably there that Jane Howard was to meet William Eagle.

Jane and William Eagle went on to have a total of 10 children, although at least one is known to have died in infancy. Their eldest, Thomas George Eagle [P189] was born in East Molsey on 28th May 1860, one day after their marriage, making any honeymoon celebration somewhat superfluous!! By the time Thomas's sister, Rachel Eagle [P190] was born on 24 November 1862, Jane and William Eagle had moved from East Molsey and were living at Hornsey, Middlesex, no doubt in connection with William's work as a carpenter. Further moves to Forest Hill, Kent and to Hersham, Surrey followed as did Ada Ellen Eagle [P191], Rhoda Emma Eagle [P192] and Ann Elizabeth Eagle [P193], all born in Forest Hill, Kent and Olive Betsey Eagle [P161], James William Eagle [P214], Ethel May Eagle [P164], Beatrice Mini Eagle [P165] and Kate Amelia Eagle [P215], all born or baptised in the Hersham area of Surrey.

To find out more of this family click on Eagle Family

George Howard (1843-1892)

George Howard [P136], Charles Howard's youngest brother was born on the 8th September 1843 at East Molsey, Surrey and was to marry Eliza Manderville [P137], daughter of John and Ann Manderville of Pyrford, Surrey. Eliza came from a large farming family who in later life were to raise many of the children from this marriage as the census records have confirmed.

By the time George Howard married Eliza Manderville on 24th June 1865 George had established himself as a Baker/Confectioner which remained his profession at least up to 1881 where he was recorded in the 1881 census as a widower working as a Baker in Richmond, Surrey, with his Son, James John Howard [P166].

Eliza Howard died in 1880 of pneumonia. Before her death she gave birth to at least seven children, James John Howard [P166], born 8th November 1865 at Forest Hill, Kent; William Howard [P171], born 16th September 1869 at Pyrford, Surrey; George Howard [P138], born in 1871 who died in infancy in 1875; Emily Howard [P139]; Ellen Howard [P401], born in 1873; Elizabeth Howard [P169] and Ethel Elvina Howard [P170], born 1876 at Kingston-upon-Thames. Ellen Howard [P401] was to marry a Samuel Marlow who emigrated to Australia.

To learn more of this family click on Aussie Cousins

At the time of the 1891 census George Howard [P136] had re-married and was living at 9 Nine Elms Lane, Lambeth where George and his family were listed as follows:-
George Howard - Head
Lizzie Howard - Wife
Ernest Howard - Son 4-5 years old born Richmond
George died on 24 March 1892 and his second wife was present at the time of death. George died at 10 Orkney Street, Battersea. George Howards death certificate gave his profession as given as Dairyman (Master).
Who was Lizzie Howard? What happened to their son, Ernest? As one question is solved another two appear!
---
The Thames Ditton Howards © Graham B. Howard 1997-2001. All Rights Reserved.