---
Wandsworth (1860-2000)
Charles Howard (1829-1882)
Some time before the birth of Charles Howard's fifth child George, on the 28th November 1864, this family moved to an area of present day Wandsworth known as Dunt's Hill where the arrival of George Howard [P42] in 1864 was closely followed by John Henry Howard [P43] in December 1866, Mary Ann Howard [P44] in December 1869 and Thomas Howard [P45] on 12 August 1872.
Their arrival in Wandsworth, preceded an occupation of almost 150 years where to this day the Howard line is represented by local building company Howard Brothers and Strong who are descended from this Howard family.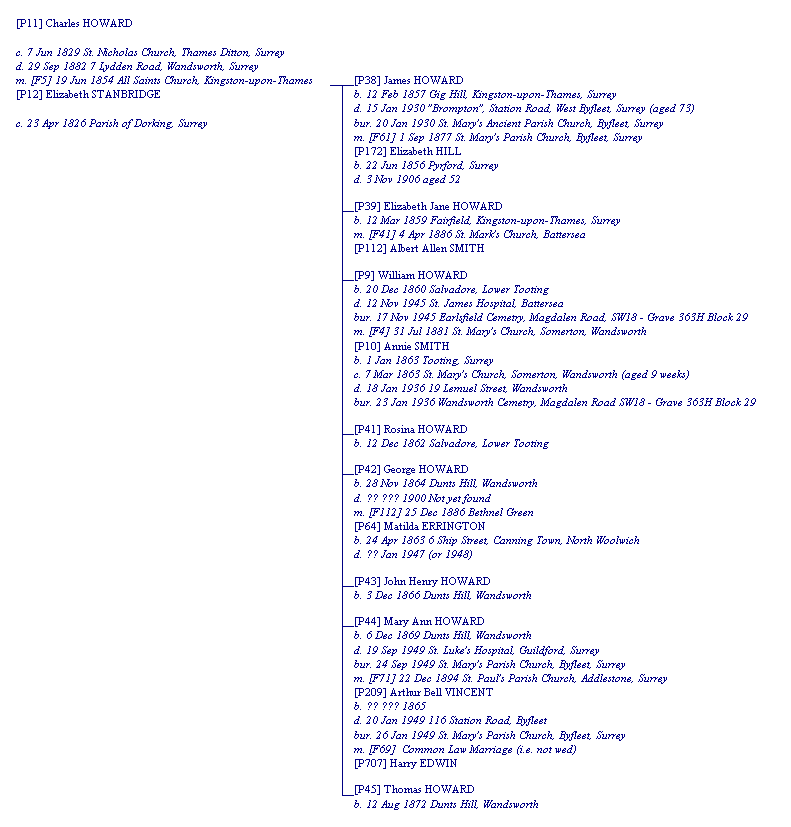 James Howard (1857-1930)
James Howard [P38] was born on 12th February 1857 at Kingston-upon-Thames. James Howard [P38] moved away from Wandsworth to Byfleet, Surrey sometime in his early 20's. It was here that we found listed as living at Shearwater House in the 1881 census, where he gives his age/profession as 24/Gardener. James Howard [P38] married Elizabeth Hill [P172] on 1st September 1877 at St. Mary's Parish Church, West Byfleet at the age of 20 and the couple remained in the Byfleet area until James Howard [P38] death in 1930. James and Elizabeth Howard had three children, James William Howard [P173] , Frederick George Howard [P174] and Elizabeth Beatrice Howard [P175]. The families of James and his brother Frederick have been traced and details of the descendants of these two brothers are known. By contrast, Elizabeth is understood to have emigrated to Australia around 1910. Little is known of her family other than she married an Edward Alfred Snook [P282] in Woodham, Surrey on 23 May 1904. They had at least two children, Edward Ernest Snook [P259] and Florence Beatrice Snook [P302]. Two sons of that marriage are believed to have visited an Aunt, living in Woking just after the war. James Howard is buried at St. Mary's Parish Church, Byfleet, Surrey.
Elizabeth Jane Howard (1859-19??)
Elizabeth Jane Howard [P39] was born on the 12th March 1859 at Fairfield, Kingston-upon-Thames, Surrey. Elizabeth Jane Howard married Albert Allen Smith [P112] on the 4th April 1886 at St. Mark's Church, Battersea. Little further is known of this Smith family and the writer has purposely postponed further research on this family until time permits or clues as to the descendants of this family appear…. There are a great deal of Smiths listed in the birth, marriage and death registers at the Family Records Centre - I need some inspiration!!.
William Howard (1860-1945)
William Howard [P9] (Bub) married Annie Smith [P10] on the 31 July 1881 at St. Mary's Church Somertown in the parish of Wandsworth at the age of 21. They had four children, Elizabeth Howard [P15] (Great Aunt Liz) born 18 June 1882, Eleanor Jane Howard [P24] (Great Aunt Nell) born 17 February 1885, William James Howard [P7] (Billy) born 10 August 1888 (the author's Grandfather) and Arthur Charles Howard [P16] born 27 May 1892. William is recalled by family as a kind hearted if not somewhat hen-pecked husband. Annie seems to have been the ruling influence - a somewhat intimidating figure who would sit at the foot of the stairs on a Friday night with her apron open into which her men folk were required to throw their pay packets!
Annie's sons, William and his brother Arthur, both trained and worked as Gas Fitters. To the present day, a path can be traced in the oil/gas business and it is quite remarkable how so many of the descendants or spouses of descendants have forged a living in this industry.
In their spare time, William and Arthur formed a musical song and dance (tap) act called the H.O. Ward brothers. Winifred, Arthur's daughter recalls that the duo had played at the Grand at Clapham Junction and the Shepherd's Bush Empire. Indeed in later life, it is recalled by Winifred that her father won a talent show - the Brian Mickey Talent Show - a popular touring programme in those days and with it an opportunity to go on summer tour with the show in the mid 50's. It seems that Arthur declined the offer - who knows where that might have lead.
Rosina Howard (1863 -??)
Rosina Howard [P42] was born on 12 December 1862. Apart from this, very little is known about Rosina. Further work is required to track down what happened to Rosina.
George Howard (1864 -1900)
George Howard [P42] was born on 28th November 1864 in an area of present day Wandsworth known as Dunt's Hill. George married Matilda Errington [P64] on 25th December 1886 at Bethnel Green at the age of 22. They had a total of seven children, the first, George Edward Howard [PP680] was born "in the nick of time" on 27th December 1886 at 20 Lydden Road, Wandsworth, the address of Charles and Elizabeth Howard. Their remaining children were: Charles Howard [P681] born on 28th May 1888; John Henry Howard [P82] ("Jack") born 15 January 1890; Edith Ethel Howard [P682] born 25 March 1892; James Howard [P685] born 29 June 1893; Alfred Howard [P694] born 1 June 1895 and Rose Howard [P684] born 1 June 1897. George Howard [P42] died relatively young (although the actual death certificate has, to date, alluded us). Matilda Howard is noted as the head of the household in 1900 Electoral Registers indicating that George died prior to this date. Betty Taylor, the grand-daughter of George Howard recalled that George had died of internal injuries suffered from a fall from a dray cart during delivery of beer kegs in the Wandsworth area.
Mary Ann Howard (1869 -1949)
Mary Ann Howard [P44] was the youngest daughter of Charles and Elizabeth. She was born on 6th December 1869 at Dunt's Hill, Wandsworth and was living there with her family in 1881, as recorded in the census return of that year.
Following the death of her father Charles Howard in 1882 the family (mother Elizabeth Howard and the younger children Mary Ann and Thomas) seem to have moved away from Wandsworth and moved to an area known as New Haw near Addlestone, Surrey, presumably under the care of Elizabeth's oldest son, James Howard [P38]. The next we hear of Mary Ann Howard was in 1889 when she gave birth to a daughter Alice Harriet Howard [P148] on 13 March 1889. Alice Harriet Howard was baptised on the 26th May 1889 and the father's name is noted in the Parish Register as Harry Edwin, shirt-maker.
Mary Ann Howard later married Arthur Bell Vincent [P209] a pork butcher on 22 December 1894 at St. Paul's Parish Church, Addlestone, there was no issue. Both Mary Ann Vincent and Arthur Bell Vincent died of natural causes in 1949 in Byfleet, Surrey.
Thomas Howard - (1872-19??)
Thomas Howard [P45] was the youngest child of Charles and Elizabeth. He was born on 12th August 1872 at Dunt's Hill, Wandsworth and was living there with his family in 1881, as recorded in the census return of that year. By 1891, the family had moved to New Haw, near Byfleet, following the death of Thomas's father Charles in 1882. The family are listed as living with a William Dennis and indicates that Elizabeth had re-married but this is now believed to be a transcription error. Listed with William Dennis in New Haw in 1891 are:-
Elizabeth Dennis - Wife (age unclear)
Mary A. Dennis - Daughter (21) domestic servant
Thomas Dennis - Son (19) Farm Labourer
Alice H Howard - G. Child (2)
John Snowden - Nephew (7)
Ada Snowden - Neice (1)
By 1894, Thomas and his mother Elizabeth are once more Howards, they signed their names as such witnesses on the marriage certificate of Mary Ann Howard and Arthur Bell Vincent. What happened to Thomas after 1894 is still unknown although Pricilla Miseroy, the grand-daughter daughter of Mary Ann Howard recalled that she had an Uncle Tom Howard living in the Byfleet area and recalls visiting him as a child. The Electoral Register for 1905 for the Addlestone area shows two Howards living in the Addlestone Ward (Division 2). James Howard [P38] at Woodham Grange Lodge, Addlestone and a Tom Howard, living at a cottage at Woodham Lodge Farm. This fits the description of Farm Labourer but what happened to Tom thereafter?
A Thomas Howard (a soldier aged 28) married Ellen Billiard on 4 Jan 1906 at St. Peters Parish Church, Addlestone but the age does not fit. Thomas would have been 34 not 28. Another marriage entry c 1900 has a Tom Howard (aged 27) marrying a Harriet Blackenbury. This time the age is right but he gives his father as Thomas Howard (Dec'd). To this union, a son arrived, Thomas George Howard bapt. 3 Apr 1904 - address of parents at that time was Woodham Road, Addlestone! Interesting but not yet proved.
---
The Thames Ditton Howards © Graham B. Howard 1997-2014. All Rights Reserved.